Canterbury News & Alerts
---
October 27, 2021
Nevis Bluff, SH6, spring 2021 programme – keeping people safe from bouncing rocks
From next Monday, 1 November 2021, Waka Kotahi NZ Transport Agency's Nevis Bluff spring safety programme gets underway.
September 20, 2021
Prominent Cathedral Square site transformed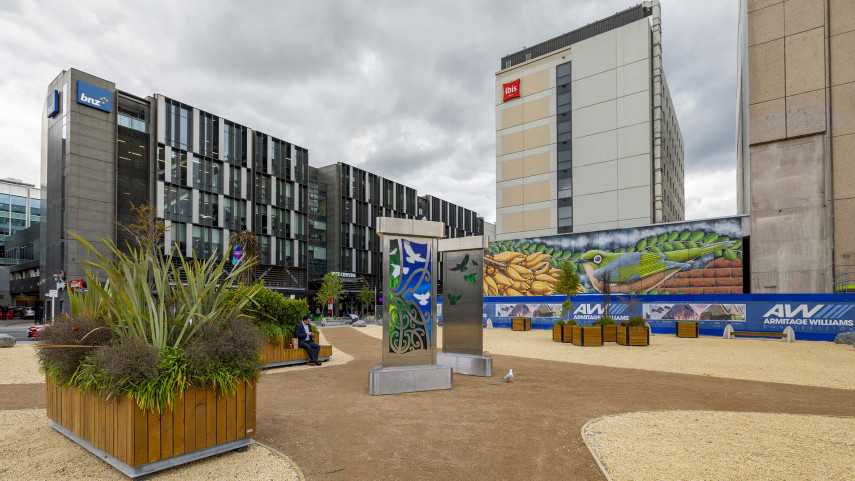 A prominent vacant site in Cathedral Square has been temporarily transformed into an urban park by its owner.
"The transformation that has occurred at 9 Cathedral Square is a great example of how vacant sites can be used to help support the city's regeneration while waiting for permanent development to take place,'' says Christchurch City Council's Head of Urban Design, Regeneration and Heritage Carolyn Ingles.
"The site on the corner of Colombo and Hereford streets was previously uninviting, but now it is a welcoming, interesting space.''
The site is owned by Surja Yang, of Emerald Development Limited.  He has worked in partnership with the Council on a low-cost makeover of the site so that it looks attractive and provides a pleasant space for Central City visitors, workers and residents  .
September 20, 2021
September update: Selwyn Waihora Zone Delivery Lead
Hear from Selwyn Waihora Zone Delivery Lead Gill Jenkins, as she talks about sediment and stormwater in the zone and updates us on one of the many local projects underway.
Selwyn Waihora's waterways have many precious species including kōwaro (Canterbury mudfish), tuna (eel) and pātiki (flounder), and it's important to protect and enhance the waterways they live in.
Sediment is fine particles of soil that when it rains, flows through stormwater drains or down hillsides, into streams and rivers.
Stopping sediment from entering waterways is crucial, as sediment smothers fish habitat, makes it hard for them to see their food, and once it's in the waterway, is extremely difficult to remove.
Sediment during development
In the Selwyn Waihora zone, earthworks near waterways and land developments pose some of the biggest risks when it comes to sediment in waterways.
Construction companies, land developers and their contractors have an obligation to make sure they mitigate the risk of sediment getting into waterways.
We have an online toolbox with tips and tricks to make sure sites are prepared to handle any rain events and keep sediment on-site and out of streams.
The toolbox can be found at esccanterbury.co.nz but we welcome anyone who would like advice or assistance in this space to get in touch online or by calling 0800 324 636 – we're here to help!
September 16, 2021
COVID-19 key updates from Environment Canterbury
New Zealand is at alert level 2. Please go to the Government's dedicated website covid19.govt.nz for COVID-related updates and advice or the Ministry of Health website for detailed health information.
At Alert level 2 our Tuam Street and Timaru offices' opening hours are 9.30 am-3.30 pm (outside of these hours the buildings will be closed).
Systems are in place to ensure physical distancing and all visitors are required to scan the QR code and sign in and out.
Please note the majority of our staff are still working remotely, so we prefer – where possible – that you contact us on 0800 324 636 (8 am-5 pm) or via our contact us page.
For an update on Metro services please visit the Metro website.
Read More >
July 12, 2021
Canterbury DHB makes changes to visiting as cases of respiratory illness rise in community
Following an increase in viral respiratory illness being seen in the community, Canterbury DHB has made changes to visiting for Christchurch and Burwood Hospitals today – effective immediately.
June 5, 2021
Rapid impact assessments continue in Canterbury
Rapid impact assessments are continuing today in areas affected by flooding in Canterbury.
Read More >
June 4, 2021
Roading: State highways update
The Ashburton River/Hakatere Bridge on SH1 has opened to pedestrians and light vehicles, as well as 50MAX and high productivity permitted motor vehicles (HPMV).
Read More >
June 4, 2021
Changes to state of emergency in Canterbury
The Canterbury Civil Defence Emergency Management Group has lifted the state of emergency for the region except for the Ashburton, Selwyn and Waimakariri districts, where it will be extended for seven days.
June 3, 2021
Canterbury flooding – last updated 5:22 pm
A state of local emergency remains in force for the areas of the Waimakari District Council, Selwyn District Council and Ashburton District Council owing to severe flooding across Canterbury.
Read More >
The Community ALERTS Directory appears as a banner on electronic emails and notices circulated by schools using the School-links communication platform.
---
DISCLAIMER: While we have made every effort to ensure that the information contained in this directory has been obtained from reliable sources, Solvam Corporation is not responsible for any errors or omissions, or for the results obtained from the use of this information. All news, alerts and organization contact information on this site is provided by contributors external to Solvam Corporation. We offer no guarantee of completeness, accuracy or timeliness. Certain links on this site connect to other websites maintained by third parties over whom Solvam Corporation has no control. Solvam Corporation makes no representations as to the accuracy or any other aspect of information contained in other websites.
The Community ALERTS Directory appears as a banner on electronic emails and notices circulated by schools using the School-links communication platform.